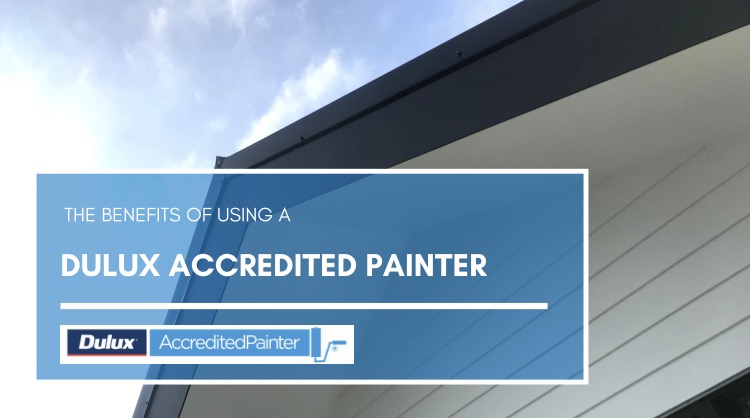 You may have heard of the Dulux Accredited Painters program on the radio or on TV, or you may have even seen the iconic logo on vehicles of Accredited painters.
You may have heard of the program, but what exactly does it mean to be Dulux Accredited? And most importantly, what does it mean for you as a consumer?
WHO ARE DULUX ACCREDITED PAINTERS?
Each Dulux Accredited painter has been hand selected by Dulux and invited to join the program based on their reputation for delivering exceptional workmanship and customer service, maintaining a high standard of professionalism, and for being a reliable organisation.
Upon being invited to the program based on their industry reputation, painters are then required to meet a range of strict selection criteria including providing Dulux with the contact information of former clients who will then be checked as references. Should the painter not meet the selection criteria or not receive excellent references, Dulux will revoke their invitation to join the program.
WHAT DOES THAT MEAN FOR YOU?
Along with their endorsement from Australia's most iconic paint brand, each Dulux Accredited painter is required to:
Provide their own workmanship warranty of at least five years for residential projects,
Be fully licensed,
Hold at least $5m of public liability insurance,
Be actively monitored by Ebix Trades Monitor to ensure they remain fully licensed and insured, and
Comply with and uphold Dulux's Charter of Values, which incorporates working with integrity, ensuring client satisfaction, delivering excellent workmanship, working in a sustainable manner, and adhering to health and safety legislation.
Whilst other non-Accredited painters may offer warranties and be insured, they are not held accountable to honour their warranties, and nor do they have to maintain their insurance (outside of the realms of their licence conditions). The knowledge that not only is a Dulux Accredited painter an excellent craftsman, but also that they are held accountable and are monitored regularly, provides peace of mind for you as a client.
There's no additional cost for you to use an Accredited painter, although it is to be expected that being a painter of this calibre, their pricing would be equivalent to the quality of work you should expect to receive.
As a member of the Dulux Accredited program, we are proud to be endorsed by a company whose products we trust and utilise each day.