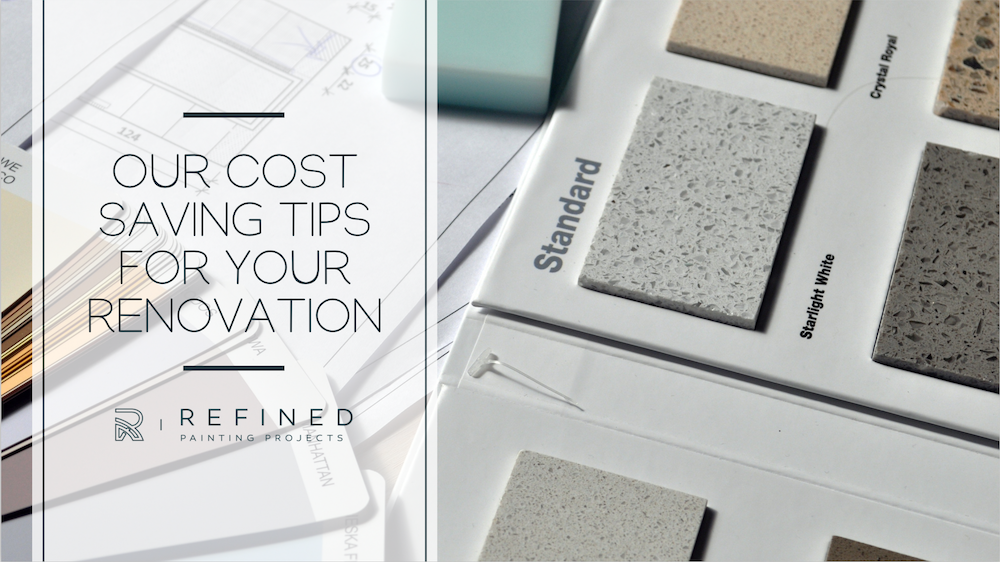 The task of undertaking a renovation is an exciting one! The chance to make a property your own by making the modifications you've chosen and adding your own flair is an opportunity not all are fortunate enough to come by, and should certainly be appreciated. Whilst exciting, we know that this can also be a very daunting process that can become quite expensive if you're not careful.
We have a few tips and tricks up our sleeves to help you with your renovation budgets, so if you're a property owner who is considering (or maybe even in the middle of) a renovation, read on!
ALUMINIUM WINDOWS AND DOORS
If your windows or doors are still trapped in the 80's with a stale shade of mission brown, cream or silver, there is an alternative solution to trying to coordinate them into your new colour scheme, or replacing them! Using spray techniques, we can paint aluminium windows and doors in the colour of your choice, bringing them in line with the rest of your property. The finish is long-lasting, and looks as good as new.
The photos below were taken this week (July 2018) during a visit back to a project completed in Carindale in early 2016. The windows and sliding doors had been a very patchy and tarnished looking silver originally, and are now finished with Dulux Monument. The results were fantastic two and a half years ago when we first we completed the project, and still look just as great today. The facelift has proven to be durable and glossy, even in and around the latches and door hardware.
TILES AND CABINETRY
If your cabinetry or tiles are in a good condition (sturdy, chip free, and aren't warped) but are in need of a facelift, it is also possible to repurpose these using a two-pack paint system.
Two pack paint systems are protective coatings that provide hard and durable finishes, in a semi-gloss or gloss finish. The durability and sheen level makes two pack paint systems ideal for painting tiles and cabinetry, again with a spray finish.
By painting these surfaces instead of replacing them, you would not only be able to save on costs, but would also have control over the colour choice and wouldn't be restricted by pre-determined colour options available from retailers. When paired with new handles, the painting of cabinetry can completely change the look of a space, especially kitchens!